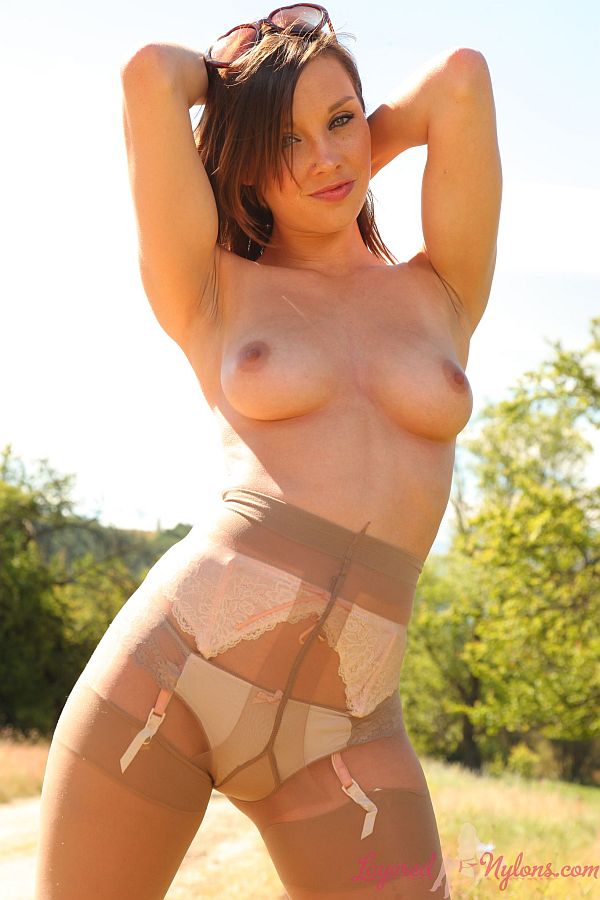 Jo E looked very pretty in her floral dress, as she posed in a quiet country lane on a sunny summers day. The warm breeze flowed through her hair and caressed her skin, making her feel so sensual and sexy, it was the perfect moment for her to strip down to her lingerie and layers of nylon hosiery.
'It's feels bit a bit naughty, stripping off like this out here in this lane,' Jo said, as she flirtatiously lifted up her dress to reveal lacy panties, suspender belt and tan stockings, under a layer of sheer nylon pantyhose. 'Who knows, someone might come along and find me half-naked in my underwear.'
Jo slipped the dress over her shoulders and allowed it to slide down her slender frame, revealing a lace bra that matched her skimpy panties. Her pantyhose were quite high around her waist and she pulled them up further so they stretched over the cups of her bra and tight around the crotch of her panties.
Stripping off her bra, she posed in her lingerie and once more pulled on her pantyhose, rubbing the tight, nylon screen, over the perky nipples of her naked, all natural breasts.
Jo squatted down, opening her legs to give a view of the oval gusset stretched over the front of her panties, as she posed topless in her lingerie and layers of nylon hosiery.