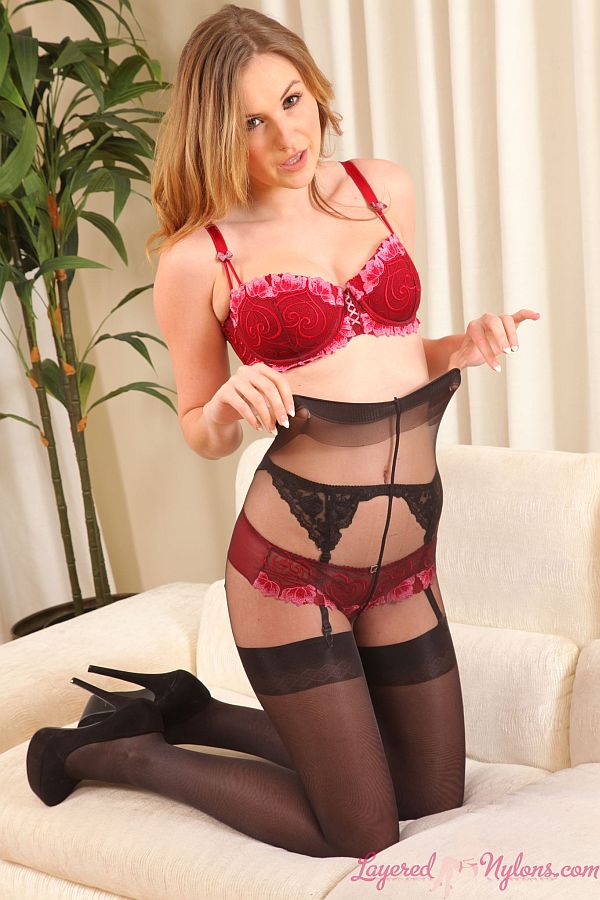 Jess wore an elegantly designed close fitting dress and black nylon hose, her face taking on a quite sultry look, as she posed at the start of this photo shoot.
Jess looked like she was definitely out to get her man in this outfit and practiced her seductive moves on us. Her bewitching eyes caught our attention as she slowly pulled up her dress to give a tantalizing view of her thighs in black hose, layered over her suspenders and stockings.
Lifting up her dress around her waist, she flaunted her sexy ass encased in see-through French knickers; the taut suspenders pulling on the tops of her stockings, under the sheer nylon of her tights.
Stripping off the dress, revealed a red-embroidered bra which matched her panties, then stood in her lingerie and stretched the waist of her pantyhose up her belly. Turning, she slipped her hands down the rear of her pantyhose, spreading her fingers over her ass and squeezing her buttocks through her panties.
Jess slipped off her heels, letting them dangle awhile from her toes, before she took them off and lay back to give a view of the soles of her stockinged feet.
Finally removing her bra, Jess pouted her lips and covered the mounds of her breasts with the palms of her hands as she posed alluringly in her lingerie and hose.