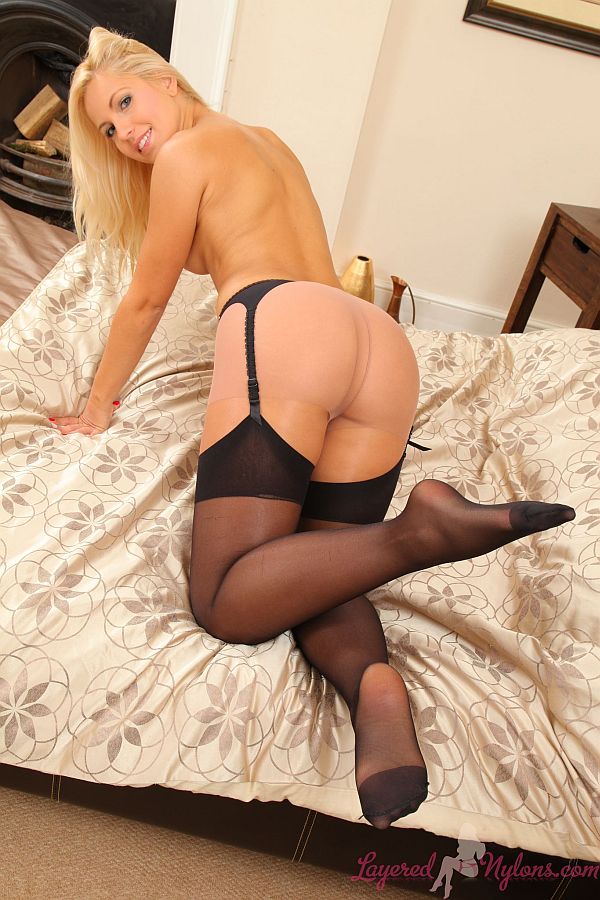 Fabulous blonde Jenni P returns looking as sexy as ever, dressed in a short, tight skirt, her shapely legs dressed in black nylon and sexy, stiletto heels.
Laying sideways on the bed, she stretched out her lovely legs and pulled up her skirt to reveal black suspenders and stockings, all layered over tan hose which covered her thighs. Drawing one leg up over the other, she gave a tantalizing view of her pantyhose crotch and slipped her fingers between the layer of her stockings tops and nylon hose.
Jenni stood and unzipped the back of her skirt, slowly sliding it over the rounded cheeks of her fabulous arse, all nicely sheathed in it's layer of soft, tan nylon. The black garter-belt around her hips looked incredibly sexy; the suspenders framing the rounded hemispheres of her buttocks, straining on the welt of her sexy stockings.
Jenni turned to reveal she was sans panties under her sheer nylon pantyhose, then stripped off her bra and reclined on the bed. Extending her legs upward, she used each foot to ease off her heels, allowing them to dangle awhile from the tips of her stockinged toes. She removed the heels and lifted her legs once more, wigging her toes and showing off her feet in their layers of sexy, black nylon.