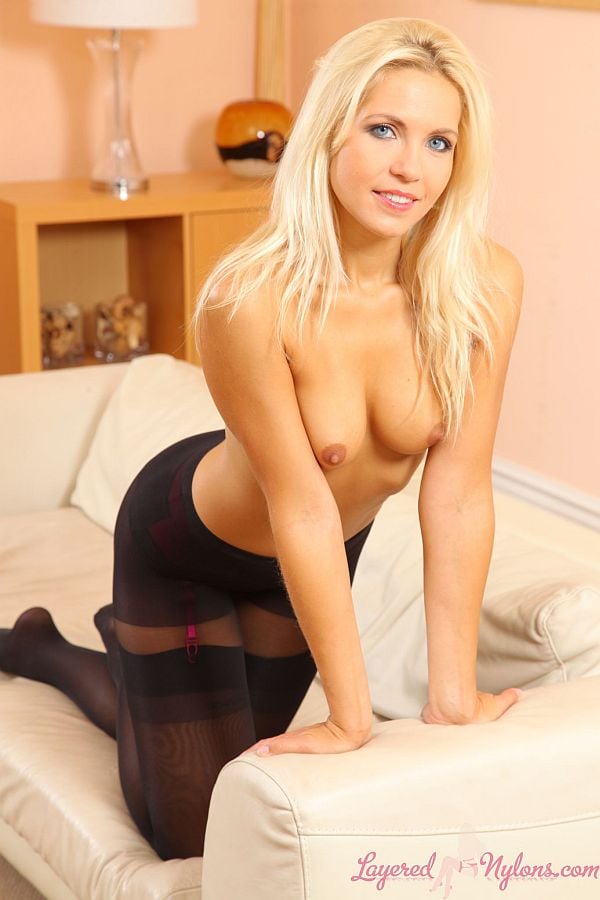 Jenni P is a stunning, blue eyed blonde, indeed! She looked quite delectable as she bent over to show her fabulous ass in a tight, black skirt, her shapely legs dressed in black shiny hosiery and feet in sexy, pink heels.
Jenni stood and turned her head and looked at us with a naughty smile, slowly lifting up the back of her dress to reveal pink suspenders, attached to black stockings, under black, sheer nylon pantyhose.
Unzipping the back of the skirt, she let it gradually slide over the nyloned cheeks of her gorgeous ass, revealing pink and black panties underneath her hose. The skirt fell to the floor  and she stepped out of it, then slipped her hands down the rear of her pantyhose and pushed her palms against the taut nylon so it stretched out and away from her hips.
Jenni opened the front of her black top and stripped it off, revealing a hot pink, satin bra, trimmed by black lace, which matched the panties under her sheer tights. She reclined on the floor to slip off her stiletto heels and pointed the toes of her pretty feet in their layers of black hosiery. Then she pushed an arm under the waist of her hose and deep inside, her hand sliding over the flesh of her thighs and down the top of her stockings.
Jenni unhooked the catch of her bra and stripped it away to uncover her petite, all natural breasts and their soft, brown nipples. Then she posed topless, standing on tip-toes in her stockinged feet and stretching the waist of her pantyhose so it pulled tight around the crotch of her pink, satin panties.