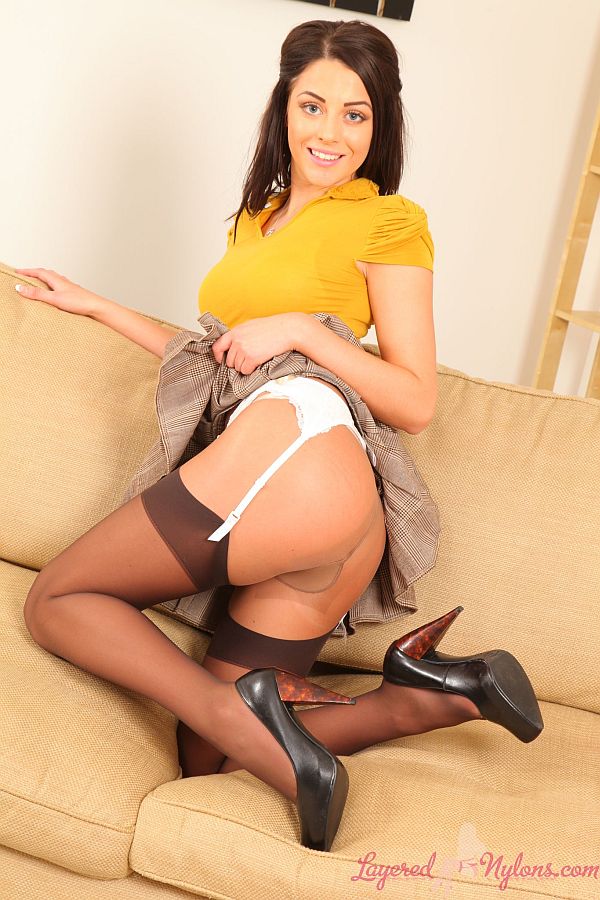 Jayne looked totally hot as she stood and posed in a tight fitting top and short, pleated skirt that flared out from her hips. The length of her skirt was so short, we could see a hint of pantyhose gusset and a tantalizing glimpse of her white suspenders attached to the tops of her black nylon stockings.
Jayne lifted her skirt, revealing more of her suspender-belt and stockings, layered over tan hose, under which she was wearing white panties. The contours of her leg muscles, subtly defined under the soft layers of her nylon hosiery, looked fabulous as she stood and posed in her heels.
Jayne unzipped the back of her skirt and let it slide over her ass and down her slender, stockinged legs, then knelt on the sofa and presented her peachy bum, sheathed in shiny nylon hose. Her white suspenders wrapped around the curve of her nylon clad buttocks and pulled taut against the tops of her black stockings, the semi-opaque gusset patch of her pantyhose stretched tight over her pantie crotch.
Jayne stripped off her top to reveal a white, low cut bra which uplifted her ample bosom, then slipped the straps over her shoulders and teased down the cups before stripping it away to fully uncover her lovely, all natural breasts.
Jayne removed her heels and knelt on the sofa to give a view of her shapely ass encased in pantyhose and suspenders, her lovely legs and the soles of her feet in their layers of nylon hosiery.