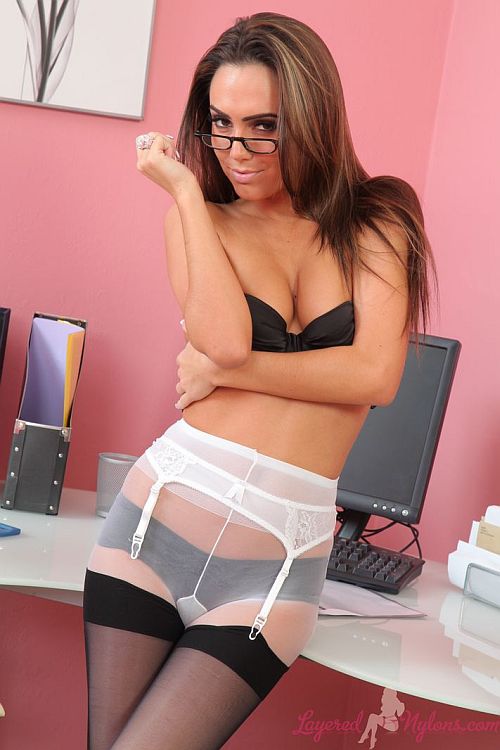 When hot brunette secretary Jamie A looks over the rim of her glasses and smiles, you know you are in for a good time in the office today!
Knowing how much you like to see her dressed smart and sexy, she has come to work wearing a sexy, provocative outfit guaranteed to arouse the interest of any man.
Standing by the desk she turns to give you a view of her ass encased in her tight fitting leather skirt, below which her long legs in nylon taper down to her stiletto heels. Then sitting on the chair, she looks over the rim of her glasses with a naughty smile on her lips, as she contemplates her next teasing move.
As she unbuttons her shirt she slowly opens her legs to give and upskirt view, revealing she is wearing black stockings over white nylon pantyhose, the crotch of which appears as a white triangle between the tops of her thighs.
Jamie stands to remove her shirt, revealing a shiny, black bra, then unzips the leather skirt and strips it away to uncover the black stockings and white suspender belt layered over her sheer pantyhose. Stripping off the bra to pose topless, she turns to give a view of her ass encased in full cut black panties which show through the white, sheer nylon of her hose that clings to the cheeks of her fabulous arse.
Jamie sits on the edge of the desk to slip off her shoes, then gets on the floor and kneels to give views of the soles of her feet and her ass clad in her suspender belt, panties and layers of nylon.