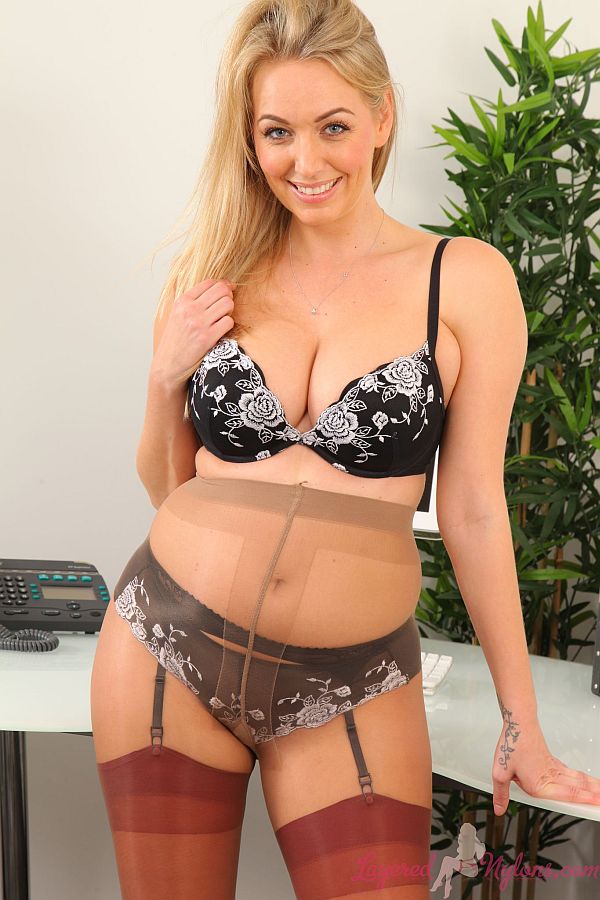 As Hayley-Marie leaned over the desk she swept her hand over her ass and pulled up the hem of her tight-fitting dress to reveal black suspenders, attached to copper-red colored stockings, under a layer of sheer nylon pantyhose.
She began to strip off the dress, bending slightly as she pulled the dress over her ass, sheathed black panties and sheer hose; the long black suspenders pulling taut on the tops of her red nylon stockings. The dress glided down her stockinged legs, then she turned to sit on top of the desk and stripped it over her stiletto heels. She opened her legs, giving a perfect view of the beige-tan gusset of her pantyhose, stretched over the pretty, black and white, floral patterned panties.
Unbuttoning her shirt, she stripped it off to reveal the matching black and white bra and the flesh of her cleavage, then gripped her pantyhose and stretched them up her belly so they were pulled tight around the crotch of her panties. She slipped the straps of her bra over her shoulders, then reached behind her back to released the catch and pulled the item away from her chest to expose her all natural breasts and their pink, puffy nipples.
Hayley-Marie posed topless and pushed her hand down the front of her stretchy nylon hose, slipping her fingers down her stockings tops and placing her palm around the crotch of her sexy panties.