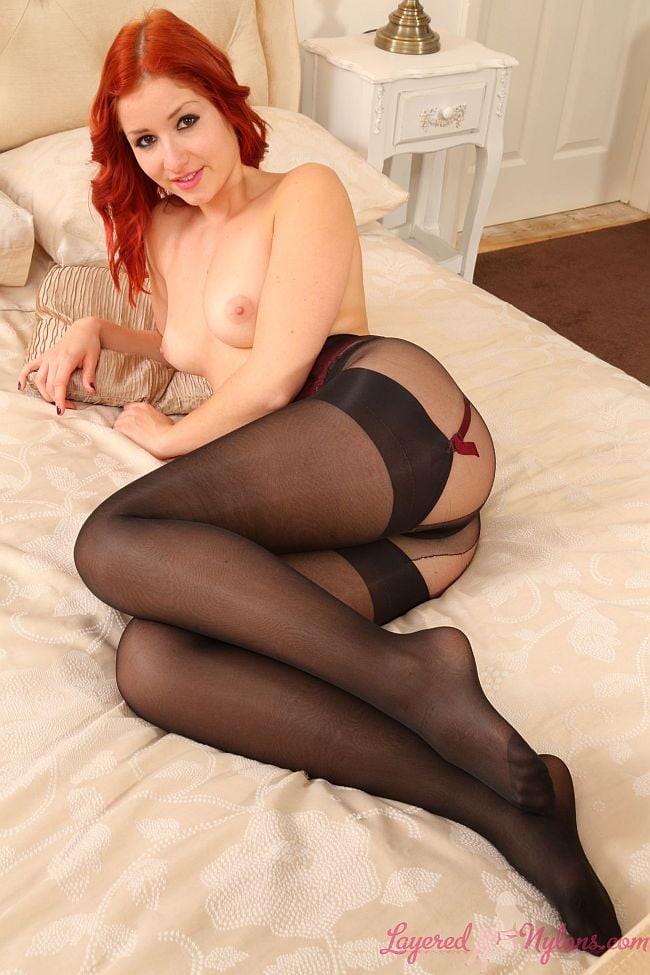 Harley turned heads when she walked into the office today in her latest outfit. Dressed in a tight-fitting sweater that showed the outline of her bra, a short pinstripe skirt and black nylon hosiery, she revealed a lot more when she stripped for us…
Standing in her open-toe heels, she bent over slightly as she pulled her tight skirt up her thighs and over her ass. Her buttocks looks so firm and round, sheathed in sheer nylon pantyhose which were layered over red suspenders and black nylon stockings.
Harley unzipped her skirt and bending forward she let it slowly slide down her shapely legs, causing her long red suspenders to stretch over her ass and pull taut on the tops of her stockings. She turned and stripped off her sweater, revealing a black, under-wired bra, the red-lacy suspender-belt around her waist and black pantie thong under her sheer nylon tights.
Harley lay back on the bed and lifted up her long legs in their shiny hose and crossed them at the ankles to show off her stiletto heels. She removed her bra to uncover her all natural breasts and their hard, pink nipples, then slipped off her heels and posed topless on the bed in her layers of lingerie and nylon hosiery.