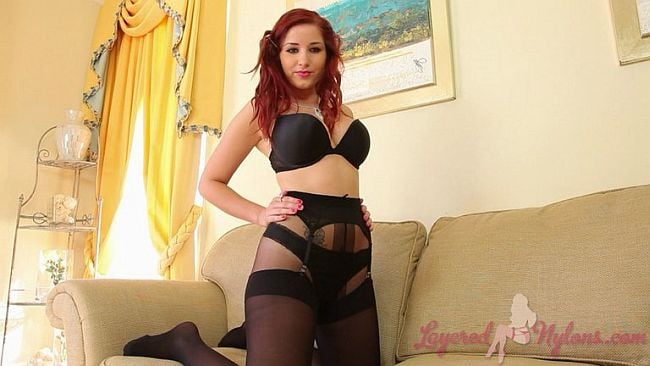 Harley looked very sexy a she posed in her tight fitting black dress, which clung to the outline of her fabulous curves, her legs looking fabulous in black nylons and heels.
'I'm not just wearing stockings or just tights, but wearing both for you today,' Harley said as she lifted up the edge of her dress and revealed the triangle of her black panties under a layer of black tights.
Harley sat on the sofa adjusting her stockings, then ran her hands over her legs in their dark nylons and put her feet up onto the cushions. 'I've been wearing these shoes all day, so it's nice to be able to finally take them off,' she said, slipping off her heels and rubbing her feet in their layers of nylon hosiery.
Harley stripped off her dress and uncovered her 32E sized bust and black bra which supported and uplifted her voluptuous boobs. The stretchy fabric of her black suspender belt fitted nice and tight around her hips; the webbing of her suspenders attached to her stockings, framing her black panties under her sheer nylon hose.
Kneeling, she caressed her buttocks sheathed in sheer black nylon and the taut suspenders stretching over the curve of her ass as they pulled on her stocking tops.
Harley unhooked her bra and stripped it away to release her gorgeous all natural breasts and their perky, pink nipples, then pressed them together in her hands as she stood and posed in her stockinged feet.