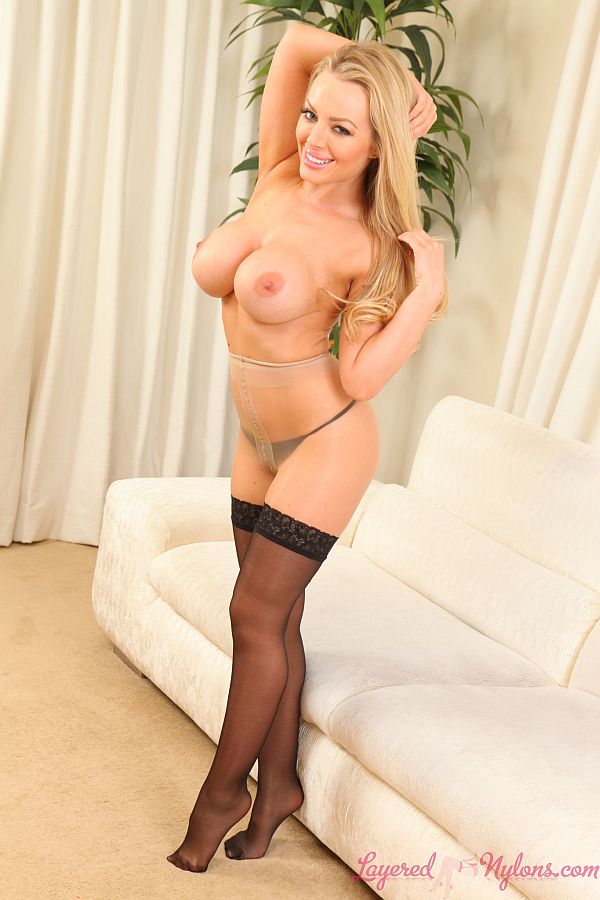 Hannah dressed to go to a party looking very glamorous in a tight fitting dress that clung to her curves and legs clad in black nylon hosiery and silver heels.
Hannah's voluptuous bust swelled under the front of her black dress as she stood and posed, her hands caressing the outlines of her curvaceous figure. She slowly pulled her dress up her thighs and revealed the tops of her black, hold-up stockings, layered over tan nylon pantyhose. She stood and posed in her sexy, silver heels and ran her thumb under the lace top of her stockings, her shapely legs so alluring in their layers of nylon hose.
Hannah stripped off her dress to reveal her naked breasts and stretched the waist of her pantyhose up, so it pulled tight around the crotch of the black pantie thong under her sheer nylon hose. Laying on the sofa she cradled her bust with her forearms, then pulled her legs back and crossed them at the ankles as she slipped off her heels and let them dangle from her toes.
Removing her heels, she posed standing in her stockinged feet and lifted her heels off the floor to stand on her tip-toes, then turned to give a view of her fabulous ass sheathed in it's delicate layer of black, sheer nylon.