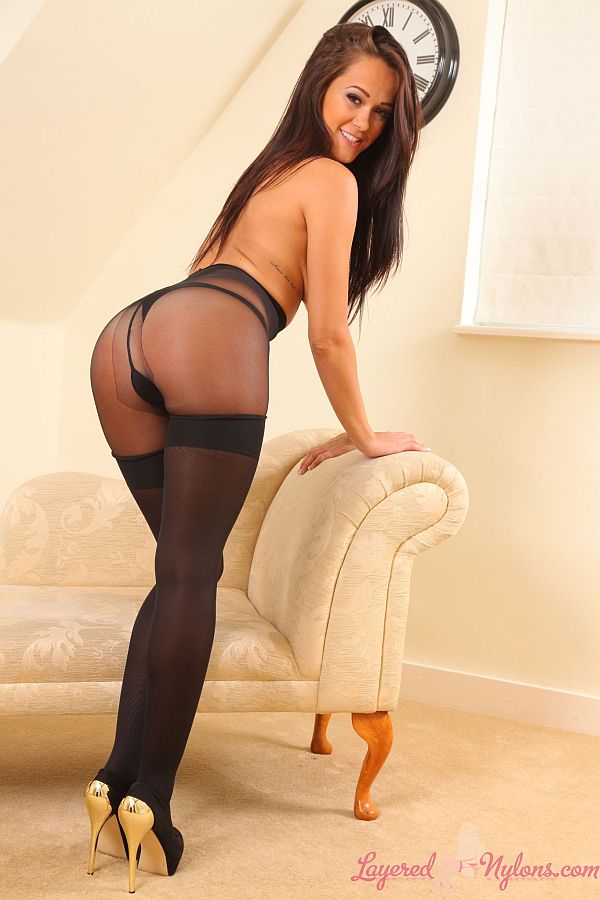 Felicity looked stunning as she posed for us, dressed in an elegant, black lace-up corset, skin tight, spandex leggings and heels with shiny, golden stilettos. When she turned to give us a rear view of her ass encased in it's layer of shiny spandex, we could see the bumps of her suspenders clearly visible under the tight material around her shapely buttocks.
Felicity peeled the spandex over her ass and revealed she was wearing a black pantie thong under a layer of black, sheer nylon pantyhose that sheathed the cheeks of her bum. The long black suspenders of her corset stretched over the curves of her hosed buttocks and strained on the tops of her black nylon stockings.
Slipping off her heels, she pulled the leggings over her stockinged feet and stood on her tip-toes as she gave us another view of her fabulous ass and legs. Then she posed in a series of positions on the divan and reclined so she could lift up her legs and cross them at the ankles to to show of her feet in their layers of nylon hosiery.
Felicity replaced her heels on her feet, then slipped the straps of her corset over her shoulders and pulled down the cups to reveal her her lovely, all natural breasts. Then she stripped off the corset and standing in her stiletto heels, pulled on the waist of her pantyhose so they were stretched tight around the crotch of her sexy, black panties.