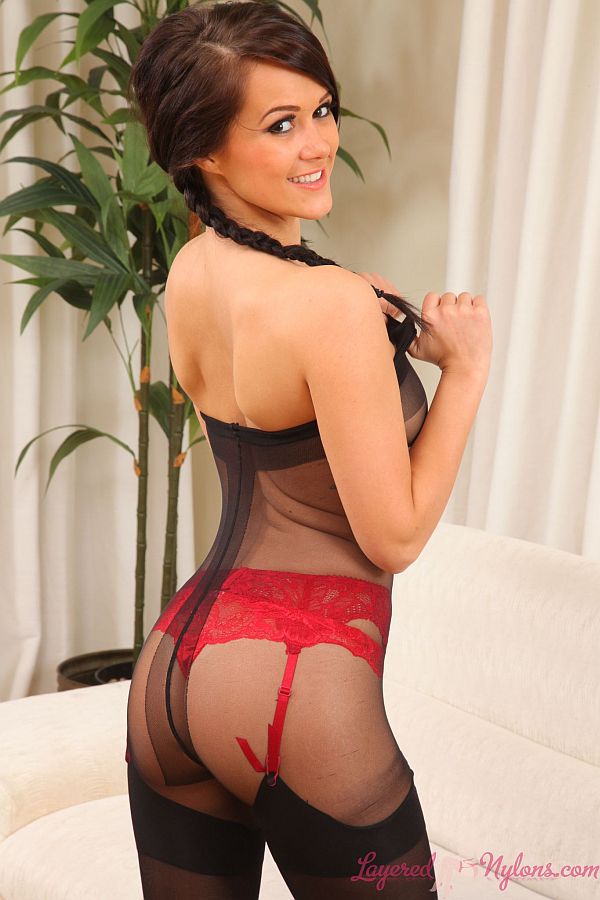 Brunette Felicity Hill was ready to party as she stood and posed in her tight black dress, nylon hose and sexy stiletto heels at the start of this photo session.
Looking so cute with her hair done up in pigtails, the low cut of her dress revealed the soft warm flesh of her cleavage as she sat on the sofa and gave us a pretty smile. Then slipping the thin straps over her shoulders, she pulled down the front of her dress and revealed her naked, all natural breasts and the soft, brown-pink of her delectable nipples.
Felicity stood and pulled the dress over her head to reveal she was wearing a lacy, red suspender-belt, attached to black stockings and layered over some high waist, sheer nylon pantyhose. The cheeks of her pert bum looked fabulous encased in the black nylon of her hose, under which we noticed she was wearing a red, lacy pantie thong.
Felicity slipped off her heels and detaching the clasps of her suspenders, she rolled her black stockings down her legs and took them off. Next, she pulled her pantyhose over the soft flesh of her shapely bum and stripped her tights down her legs to take them off her feet.
Felicity smiled prettily as she rolled on her stockings and reattached her red suspenders, then pulled on her pantyhose so they were layered over her lingerie and hosiery. Then she posed topless while standing in her stockinged feet, with her sheer nylon pantyhose stretched up her belly and pulled over the mounds of her naked breasts.