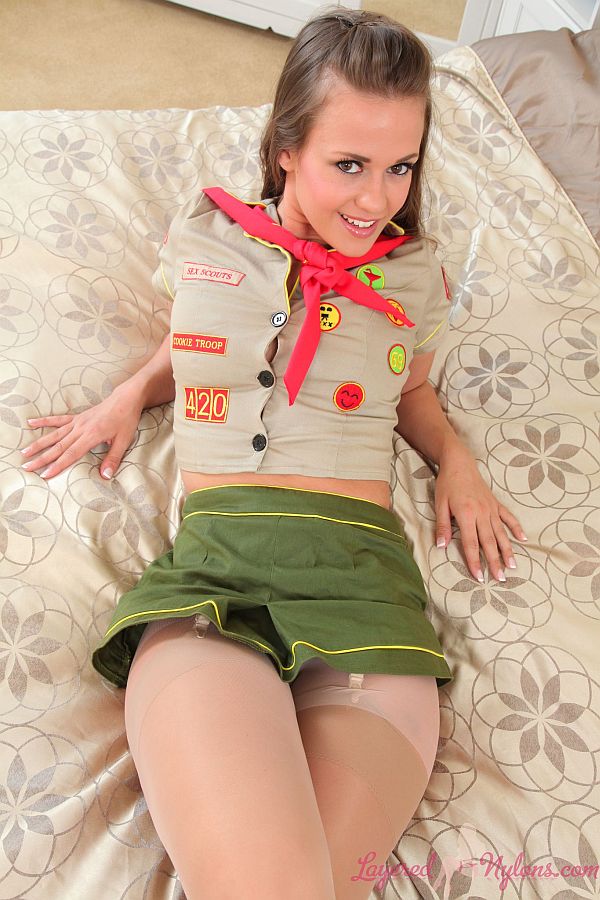 Brunette babe Emma K was a lot of flirty fun as she posed in her sexy girl scout uniform, short bottle-green skirt, beige-tan stockings and pantyhose.
Emma lay back on the bed with her skirt barely covering her thighs and revealed the sexy bumps of her suspenders and the tops of her stockings under the layer of her tan, sheer nylon pantyhose.
She rolled over onto her side and pulled up the back of her skirt to give a tantalizing glimpse of her black full-back panties and the cream coloured suspenders stretched over her thighs, pulling taut on her nylon stockings, all under the layer of her sheer nylon tights.
What a naughty, playful girl, she had a lot of fun teasing us by laying back to give an upskirt view of her pantyhosed gusset, then kicking up her legs and crossing them at the ankles to display her sexy, red stiletto heels.
Letting her skirt slide down her legs uncovered her lacy suspender belt and which looked so alluring under that dusky layer of beige nylon hose, then she unbuttoned her tight top and revealed her perfect, all natural boobs with their hard nipples standing erect.
Removing her heels, she stood and stretched the waist of her sheer nylon hose up her belly, then pulled them right down until they were around her thighs to reveal her sexy suspenders and panties.