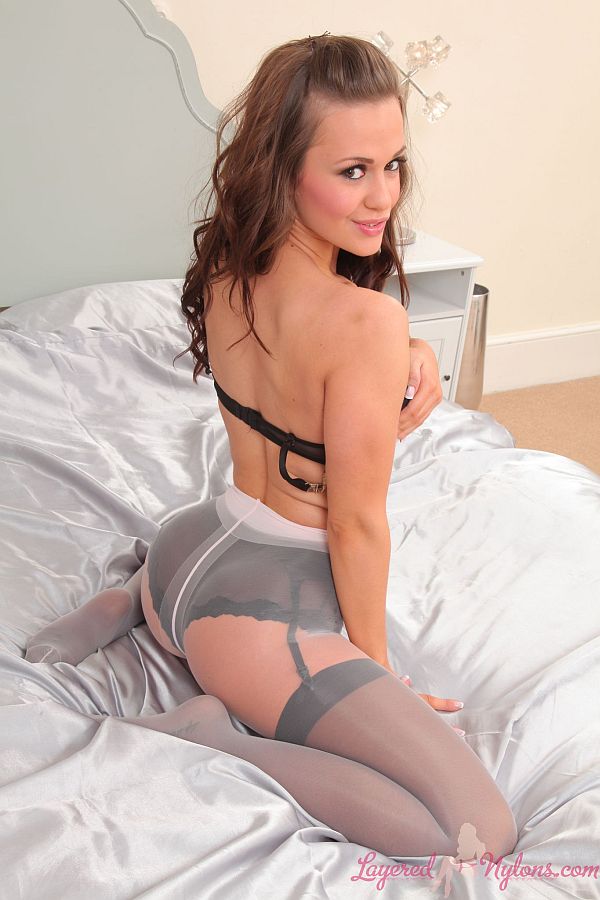 Emma stood with her legs apart and turned to look over her shoulder and flaunted her ass in a short Lycra skirt, that revealed the tops of her black stockings, under a layer of sheer nylon pantyhose.
Emma lay on the bed and gave a tantalizing view of the white gusset of her hose, stretching under and between her bum cheeks. Removing her heels and stripping off her top, she then stood and pulled the skirt over her ass to reveal she was wearing black panties, under her sheer nylon tights.
Emma slipped the thin straps of her black bra over her shoulders and teasingly held the cups in place, before finally stripping it away. She posed topless as she displayed the soft flesh of her lovely all natural breasts, gently pressing the mounds between her forearms and squeezing them together.
Laying down flat on the bed, she stretched out her legs to display her stockinged feet and gorgeously, sexy ass sheathed in their layers of nylon stockings and pantyhose.