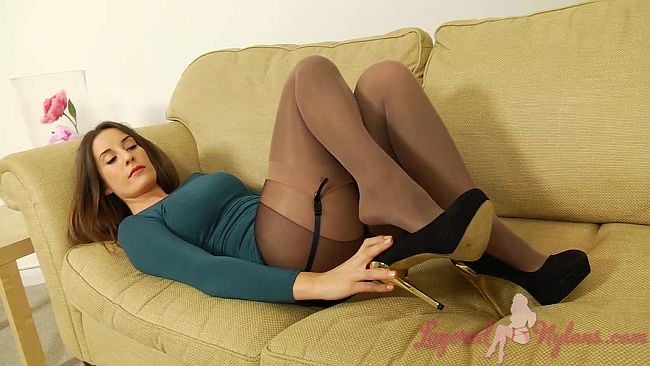 Brunette Emily looks stunning  as she shows off her fabulous figure in a tight-fitting dress that clings to her curves. The outlines of her suspender-belt show though the tight fitting material of her dress as she turns and poses to display her legs in brown nylon hosiery and gold stiletto heels.
Emily kneels on the sofa and lifts the hem of her dress slightly, revealing black suspenders and tan nylon stockings, layered over black pantyhose. She slowly pulls up her dress in a very teasing way to show her shapely ass sheathed in black panties and nylon hose, bounded by black suspenders that pull on the tops of her sexy stockings.
Emily reclines on the sofa and slips off her stiletto heels, lifting and brushing her legs together to show off her pretty feet in their layers of nylon. She takes off her dress to reveal she is wearing a green, shiny satin bra, then laying back she slips the straps over her shoulders and strips it away to uncover her lovely all natural breasts.
Standing in her stockinged feet, she poses in her lingerie, running her hands over her ass in nylon and playfully slipping her fingers around the tops of her tan stockings.