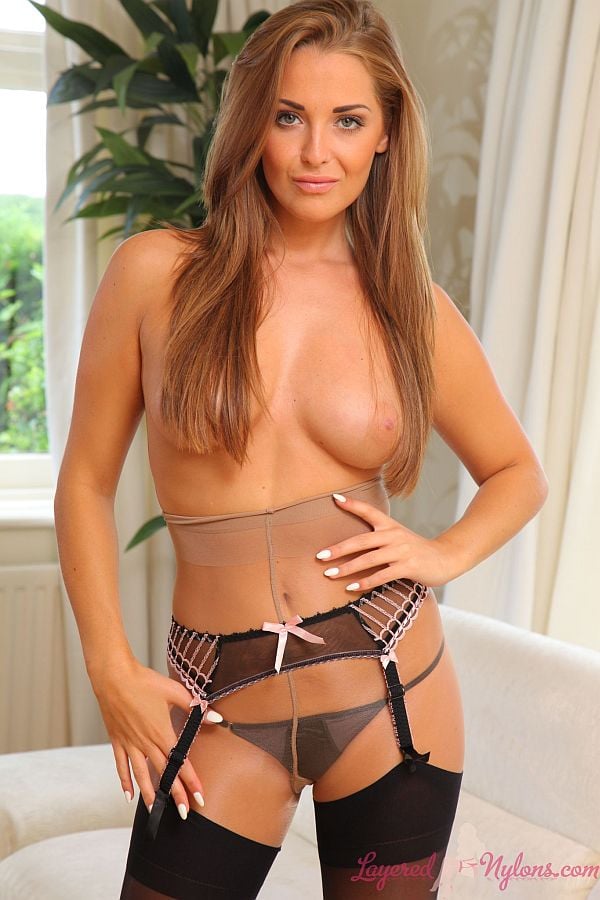 Daisy looked stunning in her long, black sequined evening dress, below which her showed she was wearing black nylons and a fetching pair of designer heels.
Stripping of her dress revealed she was bra-less, and that the waist of her beige-tan nylon hose came right up her belly, and almost a high as her all natural breasts.
Daisy posed with her long hair falling over the softness of her boobs and her hand resting on hips, around which she was wearing a black suspender belt, decorated with pretty, pink ribbons.
Daisy turned to give a rear view of her sexy bum encased in the shiny nylon of her hose, then slipped her hands down the tops of her stockings and moved her fingers over the soft nylon layer of her tights.
Slipping off her heels, she knelt on the sofa and sat back on her calves, the tight layer of her pantyhose stretching around her buttocks as they spread outward, causing her suspenders to strain on the tops of her black stockings.
Daisy got up to stand in her stockinged feet and posed topless, looking totally gorgeous as she flaunted her perfect body in layers of sexy lingerie and nylon.