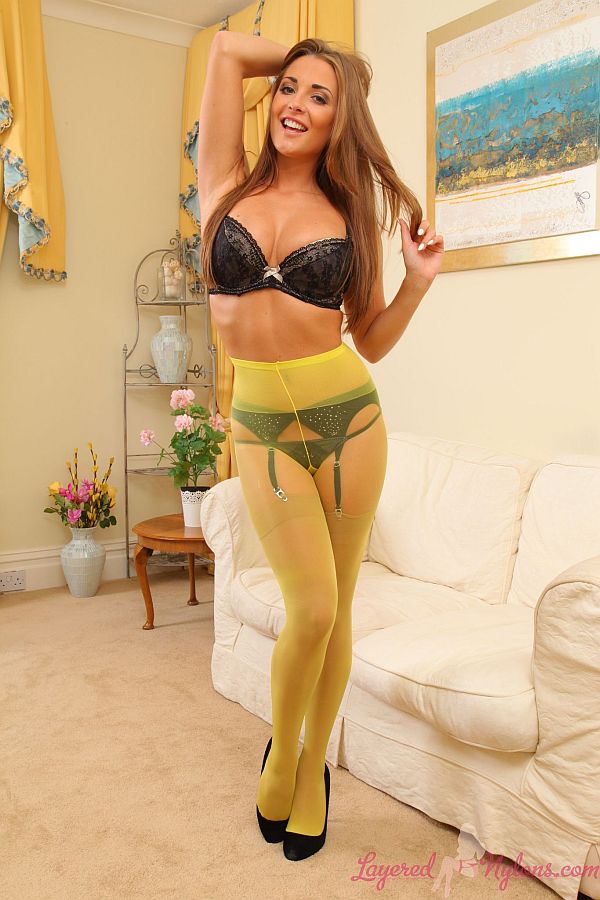 Well, Daisy was looking as pretty as ever in her brightly colored outfit, which rather reminded me of the styles we used to see in the mid to late 1960's. Of course in those days pantyhose were the new fashion and ladies dumped their stockings and suspenders in favour of more comfortable tights, but not here….
Daisy was wearing both for our titillating enjoyment, which she displayed when she lifted up the hem of her orange coloured dress and gave us a glimpse of black suspenders stretching over her thigh to her stocking tops.
Stripping off the dress revealed she was wearing a black gauzy bra, supporting her lovely breasts and a matching pantie thong under her yellow hose. Her sexy black suspender belt, with it's diamante decoration, looked so sexy under the layer of her hose and the suspenders famed the v-shape of her pantie thong that covered her crotch.
Daisy teased the straps of her bra over her shoulders and down her arms, then lowered the cups to uncover the mounds of her perfectly formed, all natural breasts, with their soft round nipples.
Her long brunette hair fell over her shoulders and surround her naked tits as she sat and slipped off her heels, allowing them to dangle a moment from her nyloned toes. Then she knelt and sat back on her heels and pushed out her breasts as she posed topless in her layers of lingerie, stockings and pantyhose.