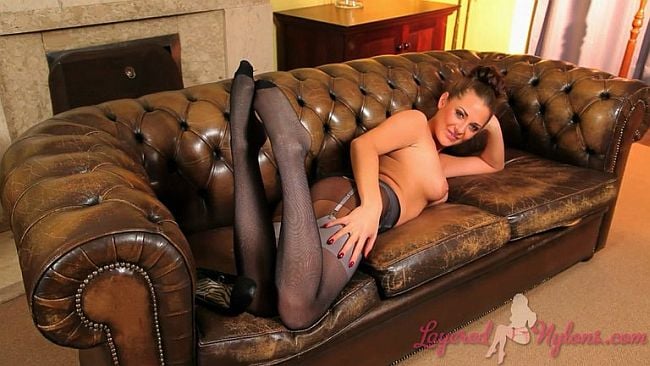 'Hi guys, I'm Daisy and I hope you like my outfit and enjoy my sexy strip,' said our delectable brunette as she stood and posed in her black top, short lace skirt, nylons and heels.
Daisy got straight down to it and lifting up her skirt, revealed she was wearing a layer of black, sheer nylon pantyhose over white satin panties, suspenders and stockings.
She swayed her hips in a sexy rhythm and the contrasting white suspenders under her black hose, looked so erotic as they stretched and pulled taut on the tops of her stockings.
Daisy gave a saucy smile and unzipped the skirt as she wiggled her sexy bum and pulled it over her ass, letting it swiftly slide down her nyloned legs and onto the floor.
Stepping out of the skirt, she turned on the spot and flaunted her legs in their shiny nylon hosiery, then lifted up her top to strip it off and reveal her all natural breasts.
Daisy knelt on the leather sofa and tilted up her ass sheathed in black panties and nylon, causing the white suspenders to pull taut on her stocking tops. She then stroked her legs and folding them back at the knees, she slipped off her heels to caresses her pretty feet in their sexy layers of nylon hosiery.