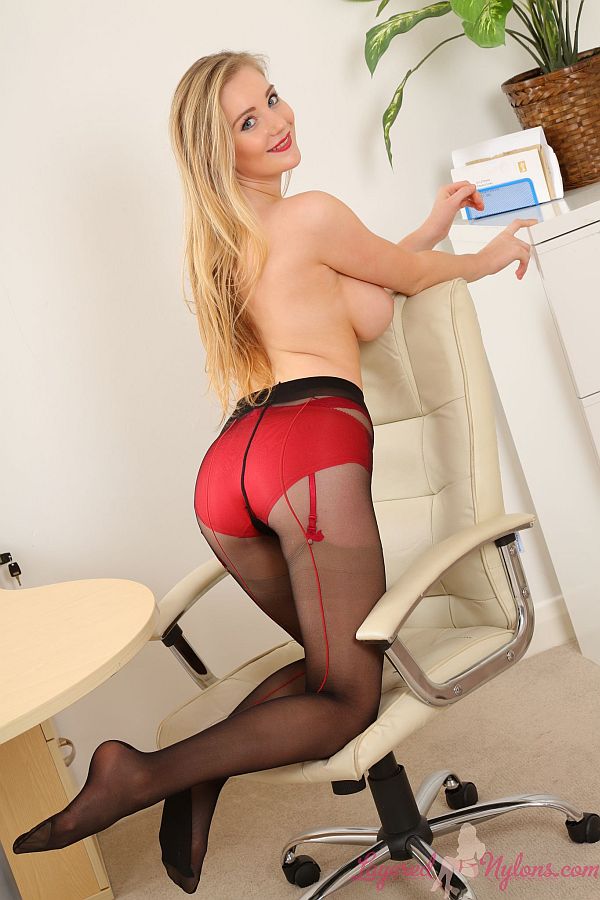 Charlie B is today's secretary and we are sure you'd love to have her around your office, as she looks so alluring in her Lycra top, short skirt, black nylons and red heels.
Charlie would inevitably be a total distraction as you watch her sitting at her desk, your eyes drawn to those incredible long legs in their layers of black nylon hosiery. As she swivels in her chair, her short skirt inches back over her thighs, revealing just a hint of stocking top under the layer of her sheer nylon pantyhose.
Charlie turns and looks over to you with those piercing blue eyes and gets on her knees in front of the filing cabinet and opens a draw. She pretends not to notice as her skirt rides up her thighs and pulls tight around her ass, revealing her red suspenders straining on the tops of her tan nylon stockings, all under the sheer layer of her black tights.
Charlie loves the attention she gets from teasing in her underwear, so she stands up and lifts up her skirt to show she is wearing some very sexy, red panties. She continues to tease you by pulling the stretchy material of her skirt over her pert, ass cheeks and slides it down her long, shapely legs in their seamed nylon pantyhose.
Discarding the skirt, Charlie sits and strips off her top to reveal she is wearing a red bra, which uplifts the mounds of her large breasts to form her ample cleavage. Extending and stretching her legs, she rests them on top of the desk and slips off her heels to give a view of her pretty feet in layers of sexy, nylon hose.
Charlie stands in her stocking feet to strip off her bra and pulling away the cups, she releases her voluptuous breasts and poses topless in her layers of red lingerie and sheer nylon hosiery.