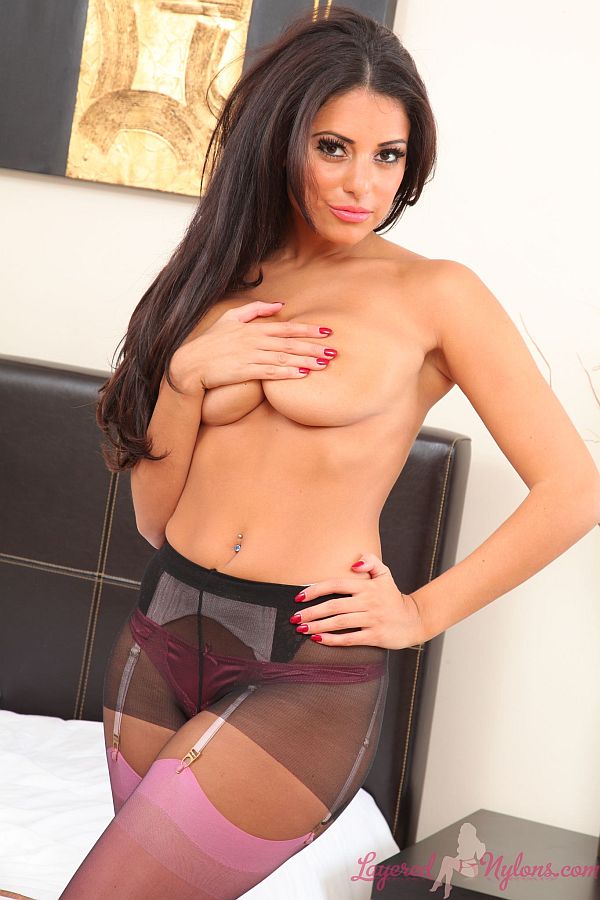 Charley's long brunette hair contrasted against the front of her pink shirt, which she had deliberately left open at the top to show off some cleavage and a glimpse of pink bra underneath.
She teasingly lifted up the hem of her tight fitting black skirt, to give a tantalizing look at her white suspenders, attached to pink nylon stockings, under a layer of black, sheer nylon pantyhose.
Charley sat on the edge of the bed and opened her legs, displaying the black oval of her pantyhose gusset, stretched over the front of her pink panties. She crossed her legs and squeezed her thighs together, causing her suspenders to pull taut on the tops of her pink nylon stockings.
Standing, she pulled down her skirt, then opened the front of her shirt, to fully reveal her pink, under wired bra, supporting her large boobs, plus a black and white suspender belt and pink pantie thong, under the layer of her sheer nylon tights.
Charley lay on the bed and slipped off her heels, then knelt to present her peachy ass encased in clingy, sheer nylon and give close up views of her feet and soles in their layers of hosiery.
Stripping away the bra, she put her hands over her tits and pushed them together, gripping and squeezing the mounds tightly in her fingers, as she posed in her stockinged feet and layers of lingerie and nylon.