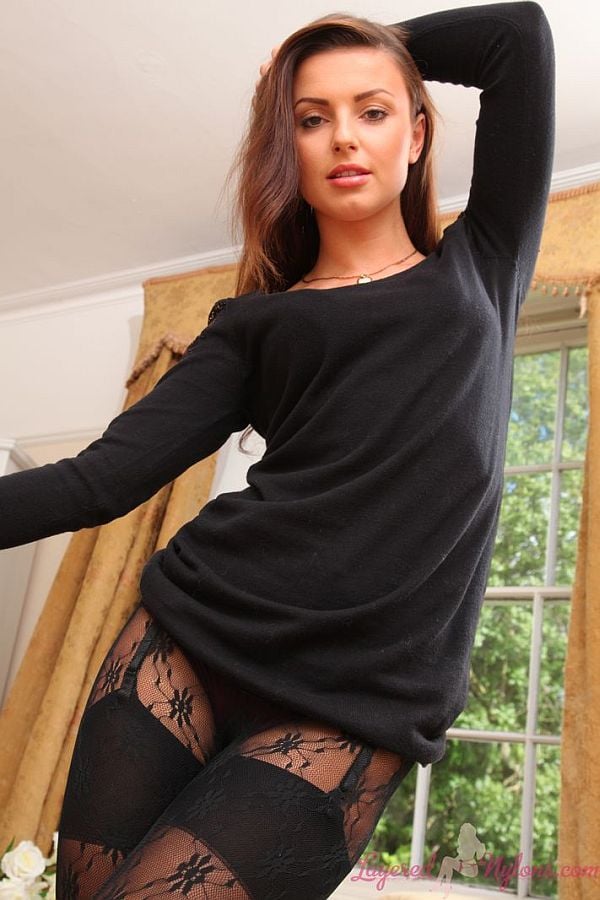 Gorgeous brunette babe Caroline is back in black wearing one of her most seductive party outfits with lacy pantyhose, stockings and heels in her latest photo set at Layered-Nylons.
Caroline looked stunning as she posed in her tight fitting black dress that clung to the outline of her curves, some eye catching lace patterned pantyhose with a sexy back seam and purple stiletto heels.
Sitting on the edge of the bed she crossed her legs and her short dress moved up her thighs, uncovering the tops of her black stockings and suspenders which she was wearing under her pantyhose.
Caroline stood and turned to lift the back of her dress and give a view of her sexy bum encased in tantalizing lace patterned hose and purple silk panties that fitted snugly around the curves of her pert buttocks.
She pulled up her dress and lifted it over her head to reveal she was wearing a matching purple satin bra, then sitting once more she slipped off her heels and let them dangle from her toes for some close up shots of her feet.
Caroline's lustrous brunette hair fell over her shoulders as she slipped the straps of her bra down her arms and carefully concealed her breasts as she stripped it away, then lay face down on the bed to offer more views of her ass, legs and feet in their layers of sexy lace and nylon hosiery.