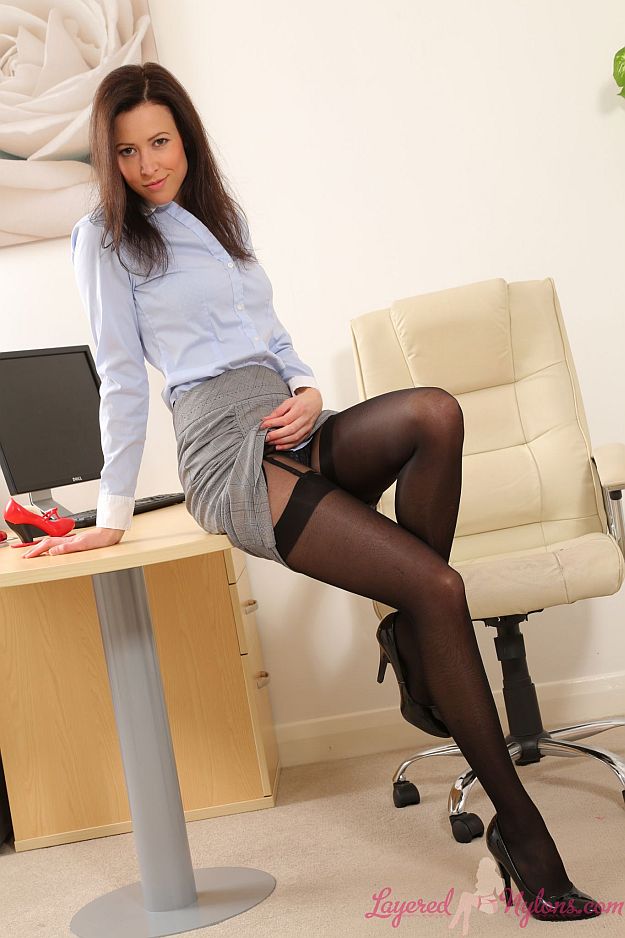 Carole is today's seductive secretary, dressed so smartly in a grey tailored suit, she strips in the office down to her lingerie and layers of nylon hosiery for your pleasure…
Carole got up from her chair walked over to the filing cabinet and opened a draw, then deliberately leaned over so the material of her skirt wrapped tight around the curve of her shapely ass. She returned and sat in the swivel chair, smiling as she relaxed and lifted her legs onto the desk to show off her black hosiery and stiletto heels.
Carole opened her jacket and stripped it off, then teasingly pulled back her skirt to show her thighs clad in black stockings under a layer of sheer nylon pantyhose. She lifted up the front of her skirt to give a glimpse of her polka dot panties between her thighs, and the black suspenders attached to the tops of her stockings.
Carole stood and stripped off her skirt, placing her hands on her buttocks as she bent over and gave a view of her ass clad in tight panties and black, sheer nylon hose. She held this position which looked so sexy, her suspenders stretching down the back of her thighs pulling on the taut nylon tops of her black stockings.