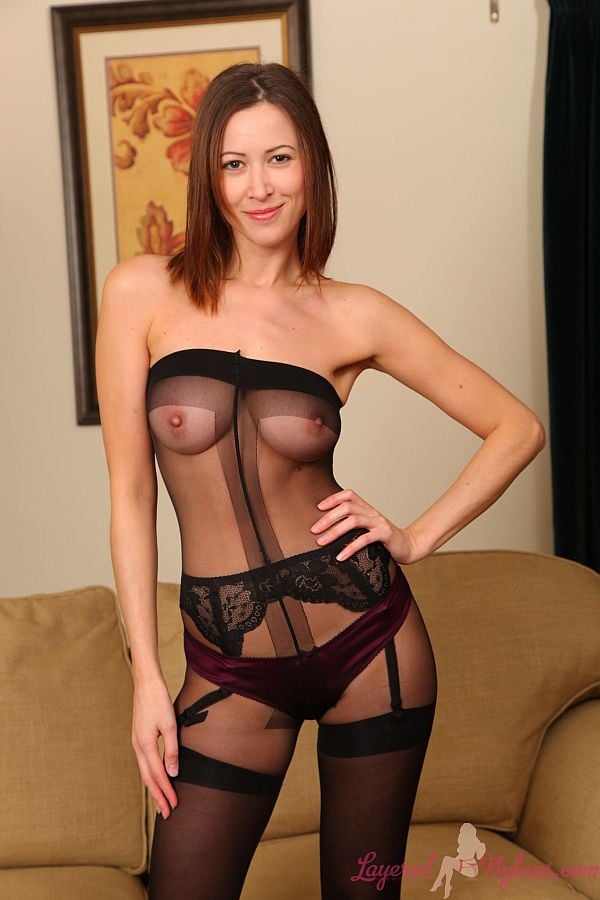 Carole was ready for a evenings relaxation with the lights low and a glass of wine, wearing a sexy dress and a layer of black suspenders and stockings over pantyhose, plus a pair of sliver stiletto heels.
Kneeling on the sofa she pulled up her dress to show her black suspenders stretching over her thighs and pulling on her stocking tops. The pair of skimpy panties clinging tightly around the curve of her ass, looked so alluring and tempting under the layer of sheer nylon pantyhose which encased the cheeks of her bum.
Carole stripped her dress off, revealing a red wine coloured satin bra underneath, low cut enough to show a certain amount of cleavage as she seductively leaned forwards. She then pushed her hand down the front of her pantyhose, next to the black, lacy suspender belt around her hips and slipped her fingers under the tops of her stockings.
Carole sat and removed her heels, then stripped off her bra and posed topless, pulling the waist of her pantyhose right up her front until they were stretched tight over her naked breasts.