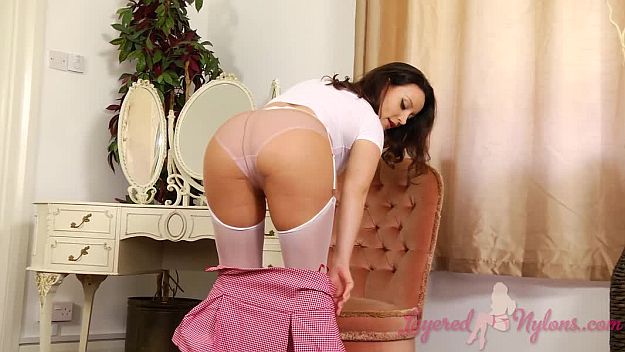 'I've got a bit of a naughty secret I want to share with you today,' Carla says, leaning forward to give view of her cleavage below the neckline of her tight-fitting white top, hands smoothing the gingham skirt around her thighs. 'Under my skirt I'm wearing stockings over the top of my tights, would you like to see?'
Carla stands in her red heels and places her feet apart, bending over the dresser table so the back of her skirt lifts and reveals her panties under a layer of tan, sheer nylon pantyhose. 'I love wearing layers of stockings and tights, it feels so good and quite naughty,' she says, gently swaying her ass from side to side, her white suspenders pulling on the taut tops of her nylon stockings.
'I love showing people what I wearing when I'm out and about, while walking up the stairs in a cafe or crossing my legs to let them have a little peek,' Carla smiles, standing with one foot resting on the dresser chair and sliding her hand along her thigh and under the top of her stocking. 'As you can see, all this flashing and teasing gets me in a very naughty mood.'
Carla unzips the side of her skirt and slowly eases it over her bum, letting it slide down her shapely legs in their layers of nylon hosiery. She strips off her top, revealing a pink bra that matches her panties, then releases the catch of the bra and it falls from her shoulders.
Carla turns and runs her hands over the soft mounds of her voluptuous titties, massaging her bouncy boobs while she poses in her lingerie and layers of nylon hosiery.