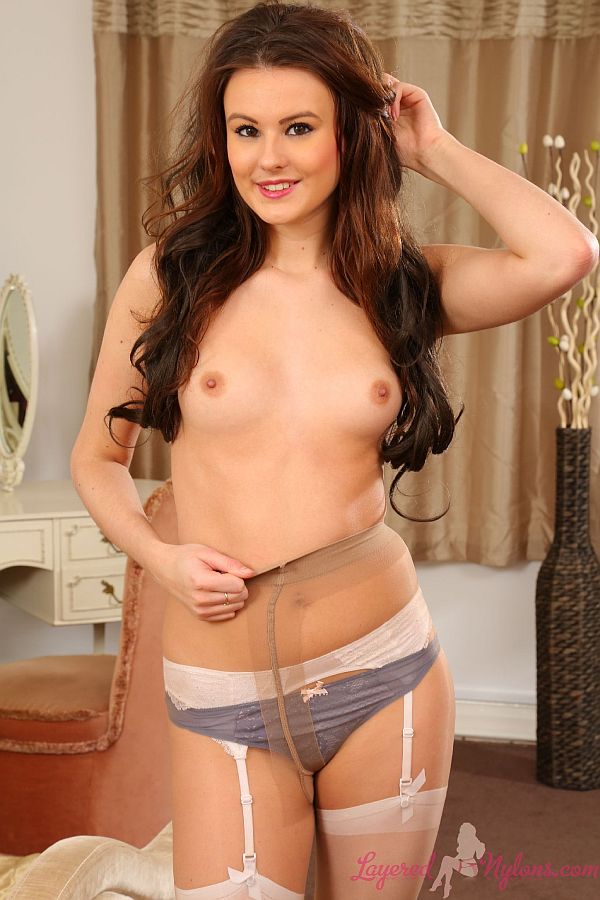 Bryony S posed in her bedroom wearing a sleeveless lace top through which we could see her bra, a tight fitting pink short skirt and legs dressed in light beige hosiery and feet in cream colored 'peep-toe' heels.
Reclining on the bed, Bryony stretched out her legs and crossed them over, then pulled back the hem of her skirt to reveal white suspenders attached to the tops of white stockings, under a layer of tan, sheer nylon pantyhose. Then she knelt and pulled up the skirt even higher to show the tan gusset of her pantyhose stretched over the crotch of her blue thong, all nicely framed by her suspenders and stockings.
Bryony stood by the bed in her heels and looked back over her shoulder with a sparkle in her eyes as she unzipped her the back of her skirt. She slipped the skirt over the cheeks of her pantyhosed ass and down her stockinged legs, uncovering the the 'whale tail' of her thong and the skimpy suspender belt around her curvaceous hips.
Bryony stripped off her lace top, revealing a lightweight bra covered in indigo coloured lace, matching that of her pantie thong. She pulled the waist of her pantyhose up her belly so the gusset was stretched tight around the crotch of her panties. Then slipping the straps of her bra over her shoulders, she teasingly held the cups over her breasts before finally stripping it away to pose topless in her layers of suspenders, stockings and pantyhose.