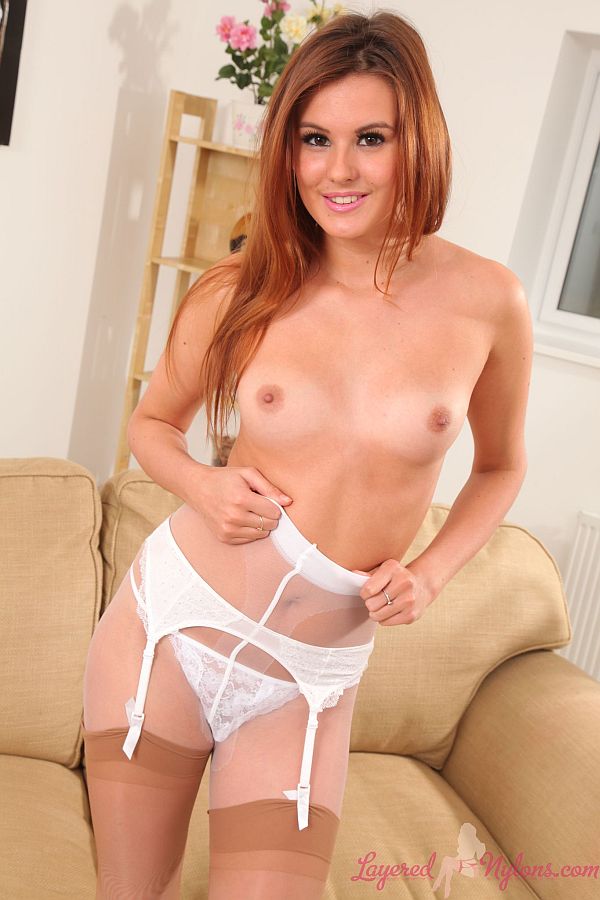 Bryony sat on the sofa with her legs crossed and pulling up her dress, she slipped her hand between the layers of her beige tan stockings and white nylon tights. Her fingers caressed the soft layers of nylon around her thigh and caused her white suspenders to stretch and strain on the tops of her stockings.
Bryony stood and stripped off her dress, pulling down the stretchy material to uncover her petite, all natural breasts and revealing the white suspender belt around her waist, layered over her sheer nylon pantyhose. She knelt on the sofa to show off her fabulous ass and the diaphanous layer of nylon hose that sheathed the hemispheres of her shapely buttocks.
Slipping off her designer stiletto heels, she stretched out to pose semi-naked in her lingerie, then folded back her legs at the knees to show off her feet in their layers of nylon hosiery. Kneeling once more, she pulled up the waist of her pantyhose the crotch so it stretched tight around the white lace pantie thong, under the layer of her sheer nylon tights.