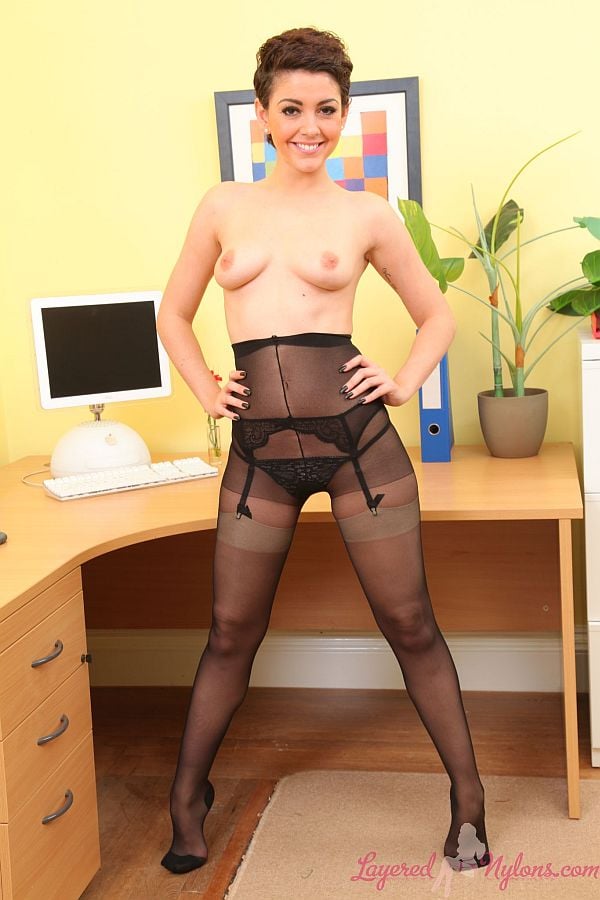 Gorgeous Bryoni Kate would brighten up any office dressed like this in a tight fitting skirt, nylons and heels like she is in her latest photo set at Layered-Nylons.
Kneeling with one leg on the chair and the other extended to the floor, she slowly pulled up the side of her skirt over her thigh and revealed she was wearing a layer of black sheer nylon pantyhose over beige nylon stockings and black suspenders.
A long black seam ran straight up the length of her pantyhose leg from ankle to thigh, where a glimpse of black suspenders pulled at the tops of her beige nylons under the sheer layer of her tights.
Bryoni Kate opened her shirt to reveal she was wearing a black lacy bra, then pulled her tight fitting skirt over her nyloned buttocks and down her legs to show she was wearing a matching pace of lace panties under her layer of pantyhose.
She climbed onto the top of the desk and removed her bra, then pulled up the waistband of her hose right up to the level of her naked breasts.
Slipping off her heels, she let them dangle a moment from her toes, then lifted up her feet for a close up view of the black foot reinforced nylon that covered her soles.
Bryoni Kate then posed topless as she stood on her nyloned tip-toes next to the desk and presented a view of her ass sheathed in sheer black nylon layered over her suspenders that stretched down to the tops of her sexy stockings.