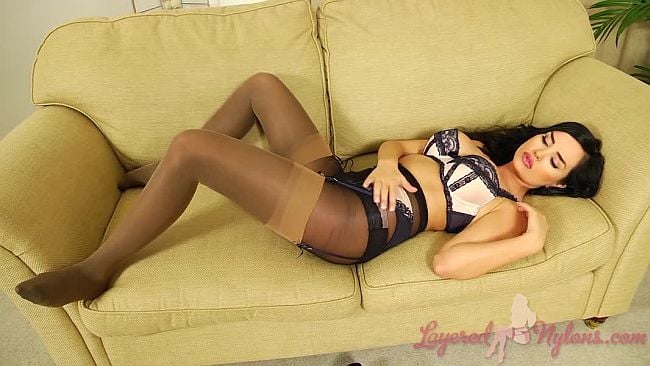 'Hi Guys, I'm Ann and I hope you enjoy my video,' Ann said, as she stood and posed for us in her black shiny top, cream colored satin leggings and black patent leather heels.
Ann turned to give a view of her ass, caressing her thighs where the bumps of her suspenders clearly showed through the tight fitting material of her cream colored, satin leggings. She stripped off her top and revealed a pale pink and delicately patterned, black lace bra, her hands sweeping under the cups that separated to give a view of her ample cleavage.
Laying on the sofa she slipped off her shiny leather heels and unzipped the front of her leggings, then peeled the tight fitting satin from under her ass and down her legs. She was wearing a pink satin and lace suspender belt attached to tan stockings, and black pantyhose that were layered over pink panties that matched her bra.
Stripping the leggings away, she drew her hands over the shiny layers of nylon hosiery that covered her legs, extending them vertically and deliberately pointing her feet and toes. Her hands moved in fluid motion as she caressed the layers of lingerie that covered her body, then sitting up she stripped off her bra and uncovered her perfectly formed all natural breasts.
Standing in her stockinged feet, she combed her fingers through her long dark hair as she posed topless, the shiny layers of her stockings and pantyhose shimmering with bands of reflected light up her shapely legs.