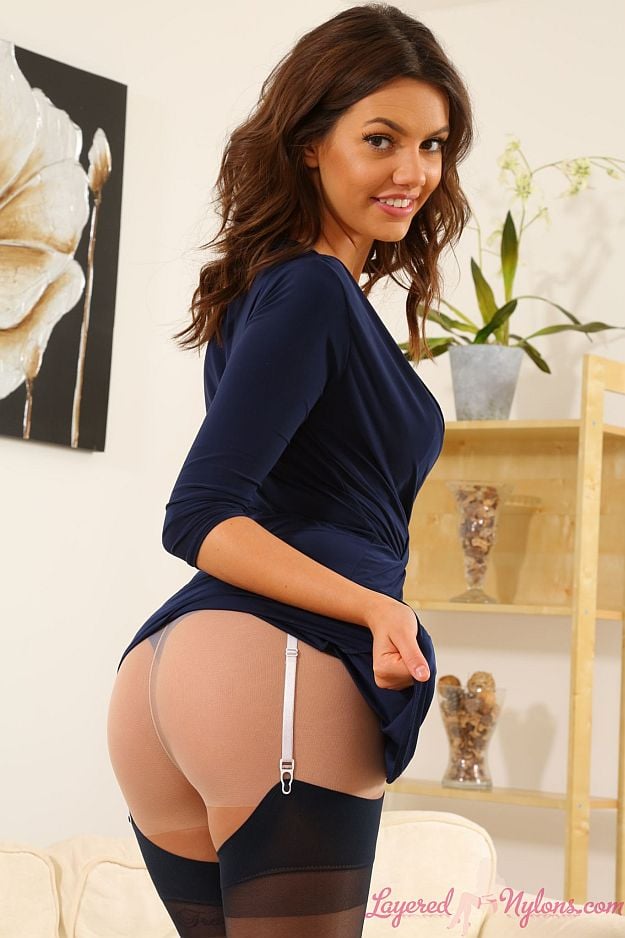 Pretty brunette Abigail B posed in a navy blue dress, just short enough to give us a tantalizing glimpse of her stocking tops. She lifted the back of her dress to reveal her firm, rounded buttocks sheathed in light beige pantyhose, bound by white suspenders attached to the tops of her black nylon stockings.
Sitting of the sofa, Abigail crossed one leg over the over and swung it up to ease off her stiletto heels and playfully dangled them from her toes. Removing her shoes, she stretched out her legs to gently rubbed one foot along her shin and flexed her toes inside their cocoon of nylon hosiery.
Abigail got up to stand in her stockinged feet and unzipped the front of her dress, revealing a blue satin bra, white suspender-belt stretched, and blue pantie thong under the layer of her sheer nylon pantyhose.
Abigail reached behind her back and released the catch of her bra, then stripped it away to uncover her petite, all natural breasts. She slipped her hand over her thighs and down the tops of her black stockings, then pulled the front of her pantyhose up towards her tits while posing topless in her layers of lingerie and nylon.