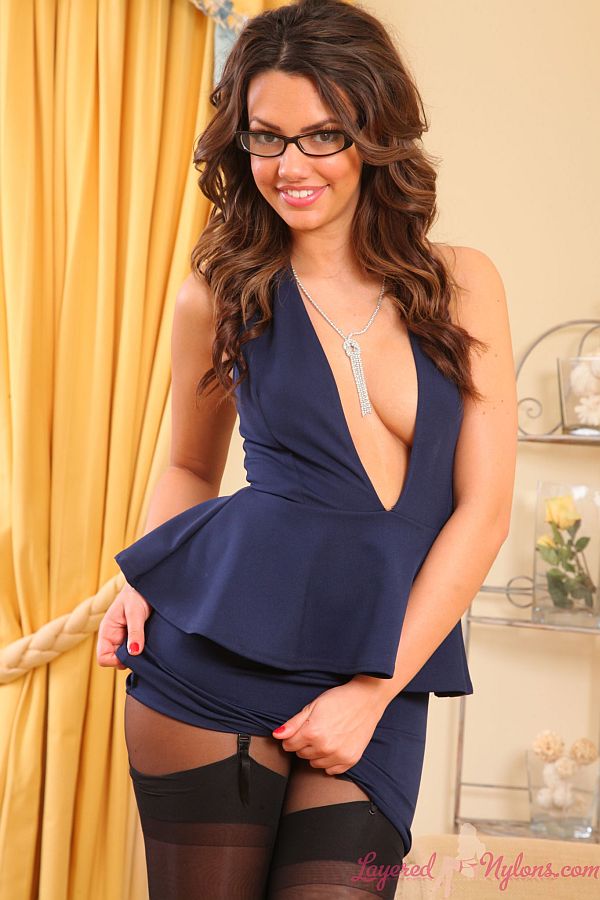 Abigail B is your perfect secretary in glasses, ready to tease and please as she strips out of her sexy dress, black stockings and suspenders, layered over sheer nylon pantyhose.
Having both enjoyed a relaxing evening out at dinner, Abigail takes you back to her place for a few more drinks. Reclining on the sofa she teasingly lifts the edge of her dress, revealing the tops of her black nylon stockings, layered over sheer nylon pantyhose.
Abigail gets on her knees and slowly lifting the back of her dress, reveals the cheeks of her fabulous ass encased in their clingy layer of seamed nylon pantyhose; her black suspenders stretching over the curve of her buttocks pulling taut on the tops of her stockings.
Abigail stands and pulling open the front her low plunge dress, she openly displays the soft flesh of her all natural breasts and their pale brown aureoles and pink nipples. Then she strips off her dress, pulling in down her body and revealing more of her shapely ass sheathed in its layers of satin lingerie and nylon.
Abigail turns and crossing her ankles, she poses in her stiletto heels, drawing the attention to the black seam of her pantyhose running all the way up the back of her long, slender legs.